Inventory Control Screen Samples
Because no two businesses are alike the inventory screen is divided into tabbed windows so you can easily avoid the features you do not plan to use.
The Special tab contains some features found in only the most advanced POS systems. Features such as suggestion selling, serial number tracking and automatic substitutions for out-of-stock items are available. The field called Parent Item allows you to convert cases to units where both are kept in stock.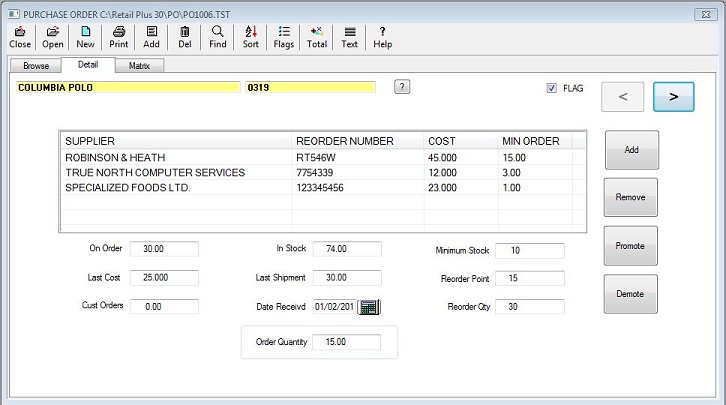 Inventory control means accurate and timely ordering. You can have Retail Plus suggest order quantities based on sales, reorder points or customer orders. Otherwise you can just flag the items you want and pop up a PO with blank order quantities for you to fill in. Suppliers for any item can be listed in order of preference and you can always select the one you want for the next order. The Matrix tab is used to break an order down by color & size (or whatever matrix you define.
---
Home | Features | POS Download | Point Of Sale Answers
DIY Point Of Sale | Software Support | Prices | Point Of Sale Dealers
QuickBooks Links | Retail Plus Contact