Store Proven POS Software For Over 25 Years
Our cutting edge POS system makes superior retail management easy and affordable. 
Video: How Our Point of Sale Software Works
Retail Plus has been helping stores track sales and inventory with our POS retail software for
over 25 years

!
Retail Plus has been a life-saver for me and I don't have to hire a computer genius to take care of it.
Sue Haberman
I have looked at a lot of POS software out there
– and I mean a lot –
and I liked Retail Plus the best.
Jason Riel
Get Started Today
With Our Award Winning Point of Sale Software
Have Questions?  Call us at 888-272-4874
Easy Setup
Retail Plus includes point of sale, customer tracking, inventory control, invoicing, purchasing, customer loyalty, card processing, superior support and much more.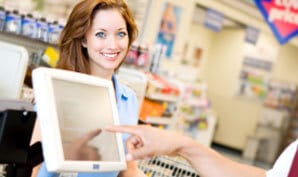 Simple Point of Sale
Most POS systems involve complex setups and lots of staff training. Retail Plus is the alternative that removes these barriers with an easy to use system. Our motto has always been "simplicity works" and you will agree that Retail Plus is the easiest POS system you have ever used.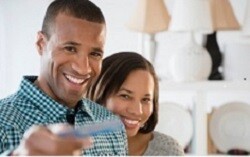 Years of Experience
With 25 years in the field, Retail Plus has evolved into a cutting edge system while ease of use remains a priority. It delivers fast checkouts, good inventory and accurate records instantly. This leads to helping you generate bigger profits and having more time to focus on growing your business.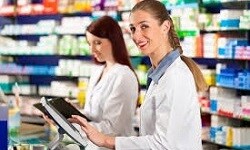 Our Commitment to You
We provide award winning POS software that delivers the right mix of simplicity and features at an affordable price. Customer checkouts are a snap with our easy-to-use point of sale system and provides a smoother customer experience.  Our point of sale software stays up-to-date, and it integrates easily with popular software and operating systems.
You can get our POS software up and running in five minutes when you download the easy-to-use installer. A sample inventory is already included so you can try it without any long setups. Call 888-272-4874 with your questions and get hassle free advice and support.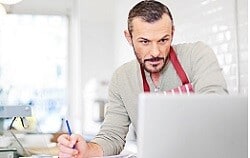 Save Time
Speed up your search for the right POS software right now by getting a free guided tour of Retail Plus Point of Sale Software. This is a one-on-one tutorial via the web. Call us now to schedule a time. Just to make it extra easy we can even install the software for you.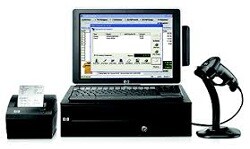 You can put together your own point of sale system and save a bundle of money. You don't have to spend thousands – you can do it yourself for far less. It is much easier than you may think. Anyone with a home computer already has the skills required to do it.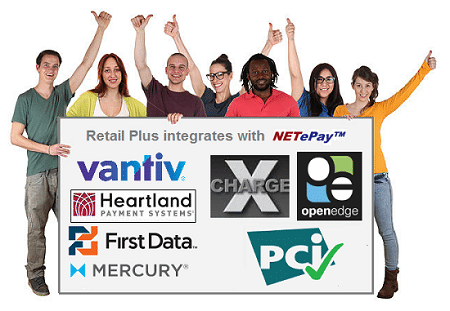 Integrates with NETepay
New credit card and gift card options are being added regularly. Secure EMV chip card processing and PCI compliance are more important than ever.
Call us for more details…..

Retail Plus Point Of Sale works on any computer or tablet with Windows 7, Windows 8 or Windows 10.
Get Started Now
Award Winning Point of Sale Software
You can download and install Retail Plus POS software in a matter of minutes. There is sample data already in the system so you can try it without any long setups. You can also call us to schedule a free live remote tutorial to help you get started. Call 888-272-4874.
Download Now
Dealer Info
Contact Us via 888-272-4874 or Email Us with this form: